Denoised versions of the clouds on this page have been processed with software SimpleTree in 2014/2015 for the referenced publication.
There is outdated result models as published in 2014/2015 here as well.
Pinus massoniana - Pine 12 trees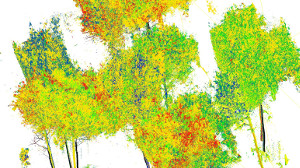 P. massoniana is a coniferous tree species. Tree scans thereby includes leaf noise in form of needles. Larger wind occurrence, high resolution scans. Software allows fully automatic denoising and modeling of all twelve trees.
Published in
Non Destructive Method for Biomass Prediction Combining TLS Derived Tree Volume and Wood Density
.
Research Site
Biomass results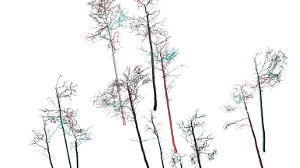 Please refer to the named publication, tables are included.
Point Clouds
All files are saved in asc file format. Coordinates (x,y,z) and intensity value are white-space separated.
Pinus massoniana raw data, 12 clouds
Within less than thirty minutes raw data clouds have been automatically denoised and modeled. Some noise is left and models show errors.
Pinus massoniana automatically denoised data, 12 clouds
30 more minutes of manual noise deletion and all clouds could be automatically modeled.
Pinus massoniana manual denoised data, 12 clouds
All files can also be opened with
Cloud Compare
.
Calculated Models
These are the PLY models from the computation used for publication result. Saved in PLY format and can be opened with
Cloud Compare
.
Pinus massoniana 12 - Models published
The models computed with SimpleTree:
Pinus massoniana 12 - Ply Models
and
Pinus massoniana 12 - csv Models
fully automatically calculated with SimpleTree after the release of
SimpleTree — An Efficient Open Source Tool to Build Tree Models from TLS Clouds
.
The results are supposed to vary slightly from those published, as in a second run deviations have to be expected. The automatic parameter search in SimpleTree is a randomized brute force one.