Tropical Forest Plot including Lianas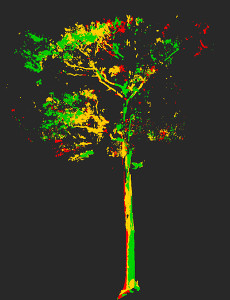 Screenshota depict a tropical forest plot and are taken with TreesVis Software.
Data were collected by Fabian Enssle, fabian.enssle@felis.uni-freiburg.de, (ALUFR) and Jörg Haarpaintner ,Joerg.Haarpaintner@norut.no, (NORUT). If this data is used for publication, Fabian Enssle and Jörg Haarpaintner should be offered a contribution possibility with co-authorship. The ReCover project (EU grant 263075), the Norwegian Research Council (grant nr 204430) and the field mission team should be acknowledged.
In addition to the published plot 6 more plot scans including ground truth data exist.